Tuesday, December 10, 2013
Monday, December 9, 2013
Before Watchmen did little to advance the cause of comicbooks, but it certainly ruined the original premise, and in the process did a lot of 1984 style rewriting of the past.

Why bother retconning Watchmen?

Because Alan Moore is too influential, even now, to allow his independent minded critical thinking, such as it is, to endure.

Before Watchmen for example replaces the original Comedian, who was implicitly the murderer not only of JFK but also of that universe's Woodward* and Bernstein, with a Kennedy hanger on version that makes basically no sense.

A similar process was carried out with roleplaying. Once it was used to collect a generation of intelligence agency recruits, it was played out, dumbed down and reduced to a circular process where computer game level moronism is fed into pen and paper gaming which feeds back into computer games...



*no one could accuse Moore of being a deep researcher- Woodward was and is an ONI / NSA asset.
Posted by

Flying Tiger
at 8:35 PM
Comments

Links to this post
If you're still not convinced you should avoid McDonald's, here is yet another reason. Katherine Ortega took her 5-year-old son to a Newport McDonald's, where they bought a box of fried chicken wings (a special promotion). As she passed them around her dinner table, she realized that one of the wings
wasn't a wing
at all.
I'll Have A Side Order of Chicken McNoggin Please
What happened to Katherine Ortega in a Newport McDonald's is perhaps one of the most disturbing reports after being verified by the news station WVEC-TV in Newport as well as the Washington Post.
Yet Another Reason To Avoid McDonald's - Your Chicken Order May Have An Unexpected Surprise
Yet Another Reason To Avoid McDonald's - Your Chicken Order May Have An Unexpected Surprise
Posted by

Flying Tiger
at 4:35 PM
Comments

Links to this post
Sunday, December 8, 2013
my conclusion is that the Loch Ness Monster "Nexus", as I have posited its existence in the preceding posts, can be understood as a confluence of both :
· deep-political structures &
· deep-psychological phenomena
as expounded within the ground-breaking theoretical frameworks afforded us by Professors Peter Dale-Scott & Carl Jung.
I would further contend, perhaps controversially, that the putative Jung-Scott synthesis suggested here – what I take the liberty of referring to – in respect to the host of this board & its associated & now sadly somewhat dormant blog - as the
"Wellsian"
analytical model - not only offers the most powerful explanatory tools for the understanding & analysis of conspiratorial, covert & occult forces such as the Nexus as they act upon society but that within this framework
the existence of such forces is also positively predicted & expected.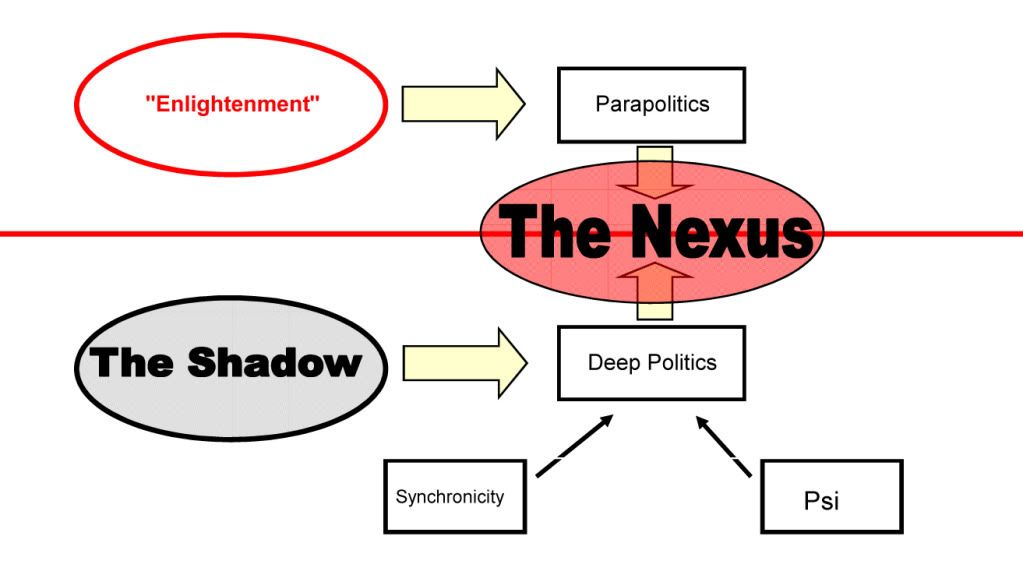 The Jungian "Shadow" can be understood as the psychic bump in the carpet which grows as certain "unacceptable" beliefs, behaviours & desires are rejected as unacceptable by the conscious super-ego & swept from sight under the pressure of social value-systems, peer-pressure & "consensus reality". These rejected impulses are usually, therefore, closely associated with social taboos concerning sexual, violent or amoral actions

The coalescence of this psychic detritus forms the individual's shadow-self : the mild-mannered Jekyll's shadow is ofcourse the brutish "Hyde" but obversely someone raised to function in the most violent & reprehensible environment will develop a shadow "Jekyll" totally at odds with their public persona.

Similarly the modern lore of SRA holds that satanically involved individuals will often have public alters that are fundamentalist Christians.
rigorousintuition.ca • View topic - "Loch Ness Monster" – the Scottish paedophile nexus
Posted by

Flying Tiger
at 11:54 PM
Comments

Links to this post
Dear ABC, Welcome to The AWU Scandal! What kept you? - Michael Smith News
And the scandalpalooza continues.
Posted by

Flying Tiger
at 10:03 PM
Comments

Links to this post
The artwork for Goldfish Graveyard features hand drawn panels rather than the pristine perfection of computer generation picture boxes. This is an absolutely deliberate decision to try and get a hand made feel to the book, as well as tip the hat to the role playing game that really encapsulated most of the story, across 34 years of novels, gamebooks and pamphlets of various kinds.
I feel strongly that something is being channelled in this book as well as the normal artistic process, so I am just going to continue to go with it. :)
Posted by

Flying Tiger
at 12:07 AM
Comments

Links to this post