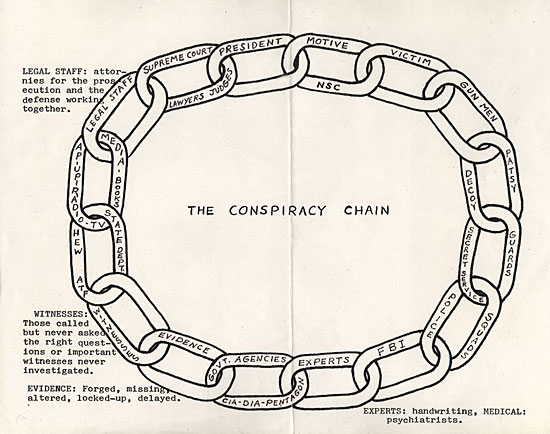 The Conspiracy Chain by Mae Brussell
The Conspiracy Chain by Mae Brussell

Mae:
There are
necessary
connecting links in every assassination conspiracy.
If any link of that chain falls apart and becomes exposed, the parts of the larger plot are more visible. When every element of that chain holds together and is present in the evidence and testimony regarding any particular murder, there
has to be
a larger conspiracy.
The
most important link
in that chain is the selected decoy or patsy. Whoever is arrested at the scene of the crime, to the exclusion of other suspicious persons, becomes the "assassin." This single person must serve a purpose, namely, to divert all attention away from those people who have armed him and located him at the scene of the crime.
Letters
and
diaries
are always present and easily located to support the predetermined cover story. They provide a "motive", and are the glue that cements (we are told) the "loner" to his single purpose.
In preparation for his "act", the decoy or patsy is moved across countries or overseas, traveling and staying at safe houses. He has no friends, no jobs, no means of support while at the same time staying at fancy hotels, spending lots of money, getting phone messages, and meeting lots of people. Very few people have the money to spend years in transit like these patsies, whose chances of being in selected locations at the precise moment their victim is murdered are minute and impossible without assistance.
[1981]

INTERVIEW WITH MAE BRUSSELL ON THE ASSASSINATION OF JOHN ONO LENNON